This weekend was pretty great. I got to spend a lot of time with my wife. They were supposed to call her in on Saturday, but it got canceled, so that made our time together more enjoyable.
Dan came over and we watched him play Guitar Hero 2 on the PS2. I gave it a shot, but it was actually a little painful on my phret (fret?) fingers. The overall game is a pretty good concept and the music was pretty good. But, because it was music being played, it felt a bit repetitive. I'll probably have to give it another shot to be fair.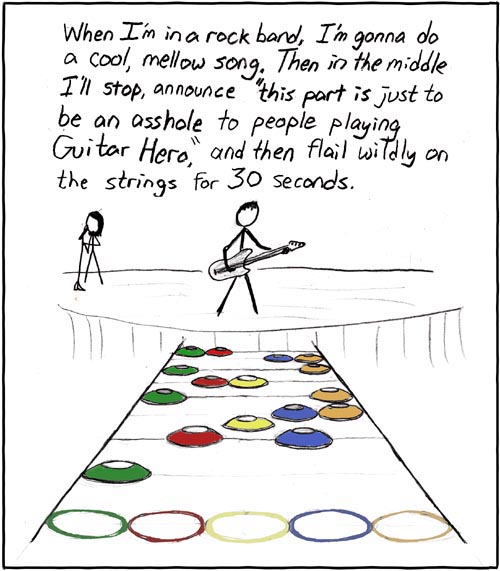 courtesy of Randall Monroe over at xkcd
Tried watching "Little Miss Sunshine" on OnDemand. But the POS kept going on the fritz. We decided "to hell with it" and went back to bumping Netflix to an infinite number of discs per month. Today it kept messing up while Danielle was trying to watch some sort of scary movie.
When we weren't hanging out with Dan and each other, I was busy working on "Sugar". I started modeling a character named Nick. So if you thought "Sugar" was going to be about animated inanimate objects, you were wrong. Now you'll really be guessing what I'm going to do. Started modeling on Friday and finished nearly all of the materials/texturing today. It's my first attempt at a semi-realistic looking human. (As opposed to Raul Domingo, which is just a humanoid)
When I textured the eyes I was creeped out at how realistic it looked. I mean, not photorealistic, but it was like he was looking at me. See for yourselves!

I also started to give him hair, but due to something I don't quite understand enough yet, his hair came out blue. It'll be fixed soon.